This week I attended a Black History Month event, at Canada Water Library. I made the journey there to hear Dorothy Koomson read and talk about her books. It was SO fulfilling being a part of an event with like-minded people. Gym aside, my major other passion (not counting food) is reading. I took to reading on my own a bit late. When I became competent in reading, my mum left me too it. As an act of spite, I didn't read for pleasure a few years… until high school. My home was in a relatively rough working-class area in Trinidad. My high school  was also in the area. If my class had not teacher for a period and children were a bit rowdy, I'd go to the school library. YES, I'M A NERD. I also went there to research topics that interested me at the time.' Armed' with my little note book full of things I felt I needed to know. How an eleven year old knows what she needs to know is anyone's guess but I was that a sort of child. I can't remember what was in my book apart from information on George Washington Carver. It's said that he created peanut butter. Due to my love of books and learning,  I spent a lot of time at the local library as well.
It's a vocation
I fancied becoming a Librarian, so I attended vocational college for two years and completed an apprenticeship alongside that to become a Library Technician. On my arrival to England I did a six months stint at the Classical Faculty Library, Cambridge University, as a Library Assistant. What a dream come through opportunity! On relocation to London, I moved into further education administration due to circumstance. My love of books never died.
As much as I've moved around I've always had a library card for every place I moved to. These days, I'm focusing getting my children love the books and the written word. Baby and toddler activities at our local library were a good start for Angelo and I. He loves story time. I reckon most children would.  It's a time to have one to one contact with their parent or carer and go a magical journey.
Picturebook Love
Thanks to Angelo I'm discovering an entire now genre of book… children's literature. At the moment he and I enjoy Shark in the Park.  I really meant to get Shark in the Dark, he'd been telling me about it for ages. Finally, I worked out it was a book but in my excitement to get it picked up the wrong one! We also enjoy We Are Going On A Bear Hunt. I never read many children literature as a child myself. (The Enid Blyton phase totally passed me by) Unless you count children's bible stories and Ladybird's Famous Legends… yeah I was that kind of child.
I confess,  my book collection is not extensive. I love the library too much. For me it's the equivalent to a candy shop for a child. I could easily spend hours perusing the shelves and neatening them too, old habits die hard.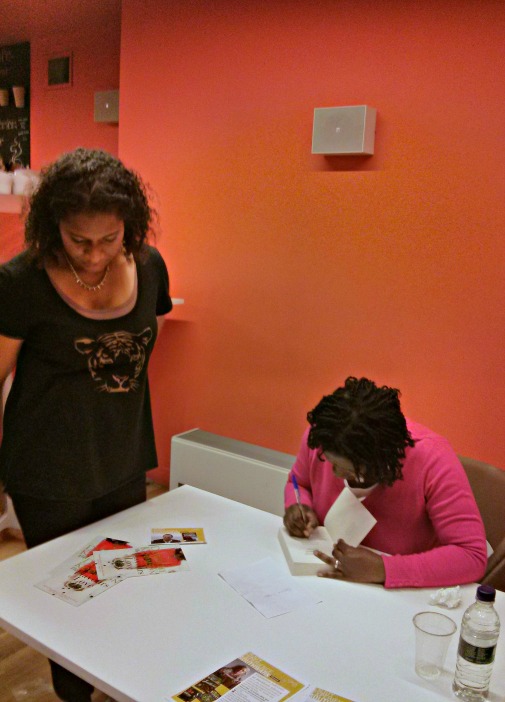 Meet the author
In awe I found myself listening to Dorothy speak about her love of books, libraries and food, as well as her writing process. Two things I've always wished I could do write a book and paint in watercolours. Sadly, I have no such skill but at the local library I do have free access to experience the beautiful creations. I don't visit my local library at the moment because there's very little time for recreational reading.
The books I purchase are the ones I feel I can't do without, on that list: Cecelia Ahern, Dorothy Koomson, Xinran, Amy Tan, Amy Chua and Lionel Shriver. I could never return their gems. Their works have touched a chord in me and I can't let them go.
I once read to escape my small world. Reading me inspired to travel to see some the world, I'd read about. In the end, I became an expat. Now, my reading about understanding the bigger world I know life in… AND … sometimes to escape routine of my SAHM existence. The library helped me see a world outside of my rough community and aspire to be all that I could be (didn't factor in being an SAHM though, this is a bend).
The local library: a place of learning; fantasy; adventure, a haven… FRESH STARTS.