Valentina has a new little playmate, Lucy! Lucy is a Nobuhle doll from the SibhaleTM Collection created by Bounce Hair Essentials.  Lucy is one of the few dolls that Valentina has that isn't a Disney princess or a Nickelodeon explorer. Not for lack of trying. It's challenging to find brown dolls in the UK. Two and a half years ago, I couldn't even find an online supplier that shipped to the UK. The Nobuhle is certainly her first doll with afro hair. I wasn't sure how she would respond to it. I need not have worried. She looked at the Nobuhle doll dressed in her African inspired ball gown, the features, felt the hair whose texture was close to mine, she loved it! The Nobuhle doll is fit for a princess.
Meet the Creators
Business Partners Caroline Hlahla (UK London based) and Khulile Vilakazi-Ofosu ( South Africa)  originally came together to build a customer-centric hair company that specialises in 100% natural textured extensions to suit African women's natural hair (Bounce Essentials). When Khulile's daughter at age 3 (with the most beautiful, thick Afro) started wanting blond and flowing hair.  This made the pair start thinking of how we could address the hair issue amongst black girls. 
They identified the very real lack of black dolls with kinky Afro hair, sold in toy shops for parents of black and mixed heritage kids to buy.  "The Sibahle Collection" that would be representative of a children of African and Caribbean heritage.
About Nobuhle
Nobuhle, Buhle for short which is a Zulu word that means "the one that represents beauty".  It certainly is a fitting name. My heart melted when one day Valentina said, 'mummy she's beautiful'. Valentina said it with such tenderness in her voice and this was some time after the euphoria of first opening the package.
Nobuhle is targeted for 3+ years. She comes dressed in a beautifully made ball gown with a removable blouse. The dress is also removable.  It's fastened at the back by velcro which is as perfect for little ones who are not able to undo buttons and zips yet.  On the Bounce Hair Essentials website there is four dress styles to choose from. Additional clothing can be purchased from the website as well. Currently there's a selection of dungarees to choice from and they come with a handbag and matching accessory.
Playing with Nobuhle
Although Lucy is would be easily portable for a bigger girl, she's not easy for Valentina to take on walks or the school run yet. Valentina usually played with Lucy at home or on car journeys. Nobuhle would make an excellent companion on sleepovers as well. Valentina has slept with her a few times when she's had a daytime nap. They made an adorable pair cuddled up; sleeping angels.  Nobhule's eyes close when in a horizontal position. I think that's comforting feature especially for younger ones. Open blank staring eyes can be a unnerving at night.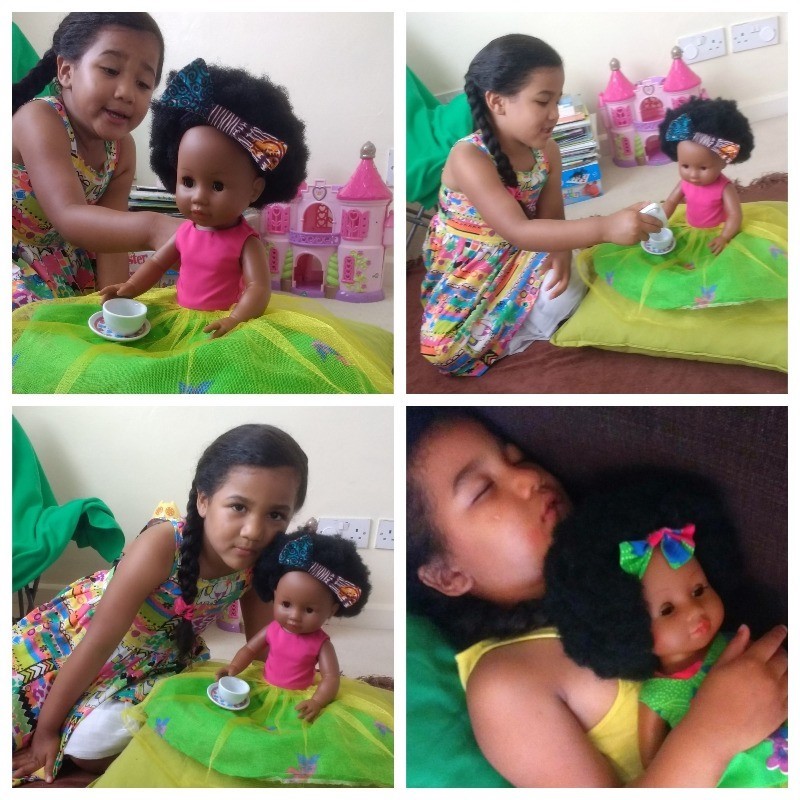 Caring for Nobuhle
Nobuhle has the hair and features of a child of afro-decent. We haven't experimented with washing Lucy's hair yet but I was thrilled to read that her can be washed and cared for. She has a full head of afro hair which I'm really pleased about.  It's annoying when you buy a doll and it only has hair at the front, back and the little in the middle.  Lucy's hair can be washed with a sulphate free shampoo, or cowashed with conditioner. In fact her hair can be cared for and styled like a 'real' little afro-hair girl which is a blessing.
Little girls can learn to care for afro hair.  I can see that great care and love went into the creation of Nobuhle and she will bring great joy to every little princess who is gifted her.
Additional Items
Sibhale has to other ranges; the Bontle and the Rainbow Nation. You can also purchase dolls with Vitiligo, books and additional accessories for the dolls and for little girls
Where to buy
Nobuhle RRP£38 each. Visit Bounce Hair International to order online from the UK. There's also a site for South Africa. If you have any enquires email info@bebouncehair.com .
(updated on 7th May 2020)