The kids and I have been enjoying the summer in our new home. We moved in February, so this is our first summer in our 'new' home with a garden. Hubby and I bought them an inflatable pool. They really like splashing about. However this week I'm cheerful because:
– with my recent minor weight loss I feel better and less achy.I'm getting out with the kids more. We've been to our local soft play area and its wonderful to see Valentina running around jumping about very sure-footed and happy.
– the kids are I are alone most of the time but this week we have visits from friends and we had fun-filed days. I enjoy my kids most when I see them interacting with their peers. Its during this time get to hear how much they and find out what they enjoy best and so on. YES I eavesdrop on them.
– I managed to fit in some me time while shopping for the kids. I've been on a hunt for a prince or king's crown for Angelo. I ended up in the Disney store. They didn't have any either but they did have a life-size statue of Princess Anna from Frozen as well as Rapunzel and Sofa the First. I'm only a little bit ashamed of much fun I had taking snaps with them… BUT, I also bought myself makeup at Kiko Milano. Then, I ended the day with a  grown-up chat and drink with a friend.
Well, that's me. How about you? How has your week been. I'm linking this post to the Reasons to be Cheerful weekly blog hop which is being hosted by Ojo's World.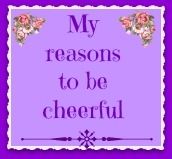 –