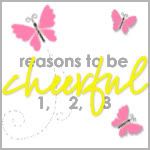 I'm over the moon with joy! This week I'm cheerful because
Date Night
Hubby and I have a date night last week. We went to see the latest fast and furious movie. I can't drive and I'm scared of fast driving but I love those films (SSHHhh let's not mention Vin Diesel or The Rock). Hubby and I have been seen each film as they've came out, from way back when we were courting. It was nice to have a couple hours to ourselves.
Interior Decor 
Our front room has been painted! YAY! Hubby inherited our flat last year. I was heavily pregnant when we moved in. Now, we are slowly doing bits and pieces of repair work. The living was an unidentifiable colour that I'd like to think was lilac, once upon a time. It's now been painted white to match the other rooms. The natural lighting isn't the best so white gives us more light. Slowly slowly we will make the flat a home that reflects us as a family.
Afro Hair and Beauty Life 2013
Last Sunday I attend Afro Hair and Beauty Live, in North London. This is the third year that I've been and the second time as a blogger. I had a lovely time as few friends attended with me as companions and support with the kids. One my personal highlight was meeting fellow Trini (Chicago based) blogger Afrobella.
Football in Anfield
After The Hair Show, we then had a mini road trip to Liverpool to see Hubby play a charity footy match on the Anfield pitch. This allowed me visit my goddaughter whom I've not seen in FIVE YEARS! I truly adore her and miss her not being nearby. (Another reason I need to LEARN TO DRIVE.)
That's it for me, why are you so cheerful? I'd love to hear from you.