Life is a bit higgledy-piggledy, topsy-turvy at the moment but all with good reason. This week I'm cheerful because:
My wish is on track for coming through. We are now in our new home things are in disarray,  as you might imagine but we should be settled by the end of the month
Although the kids are a bit unsettled with the change, they luv their new home. We have moved three times since Angelo was born.I think its a bit much for him. As for Valentina she hates the restrictions that baby gates bring. They both like having a garden.
The garden is  small garden but we also have a shed . I'm hoping to make it into an alternative play space for the kids and my blogging sanctum, that said I need inspiration. I'd love to hear from you. How so you use and garden space.
We are now close to the area where hubby and I lived in the early days of our marriage. I'm now able to take Valentina for nature walks in the same spots I used to take Angelo. Its lovely to be able to reminisce and create new memories all at the same time.
On a totally different note, but I'd like to share it to give the post more legs. I'm running a giveaway. The prize is a £50 cereal voucher which the winner can donate to a school breakfast club of their choice. This is conjunction with the promotion of the 'give a child a breakfast' funding that is available to schools for their breakfast clubs from Kellogg's.
Well that's me back to sorting and cleaning. How has your week been. Drop by and let me know.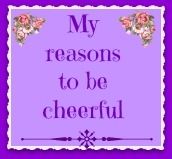 Powered by Linky Tools
Click here to enter your link and view this Linky Tools list…