Did you watch at the Royal Wedding? I couldn't help myself.  I wanted to see the dress but a part of me felt guilty. It's tricky to enjoy the funfair without thinking of Britain's colonial history. Well, Princess Eugenie's dress was gorgeous. Oh her tiara! Jack Brooksbank was adorably nervous. Then, my mind wandered to Meghan and Harry. I was chatting with a friend about how life and perspective changes when children come along. Meghan seems to be more about women's rights. I wondered if that would change if/when she had children. Days later it was confirmed that the Duke and Duchess of Sussex (Meghan and Harry) were pregnant. They're due in Spring! As with mixed babies the next thought was who will baby take after, looks-wise?  Personally, I'm championing healthy and chubby with red curly hair. You never know with a mixed race baby… just look at my two…
Blasian (Black and Asian Mixed Race Baby)
When I was pregnant with my first, everyone wondered aloud who would baby look like. I used to look at videos and photos of Chinese-Black mixed race babies. In America that racial mixed is known as 'Blasian' and for a while I adopted the term for my mixed race baby.  I had NO clue who my baby would take after; with my racial mix (Black Caribbean with a bit of this and that) and my husband's (Chinese-Italian) it was going to be a pot luck, frankly. Would baby have a look like Kimora Lee Simmons' kids? Or maybe like my cyber pal Mommy Factor's or any of the countless other babies I saw online.
I didn't even know if baby would be a boy or girl. We wanted it to be a surprise. Of course, I was praying for a safe birth and healthy baby, but I can't deny I was curious baby' features too.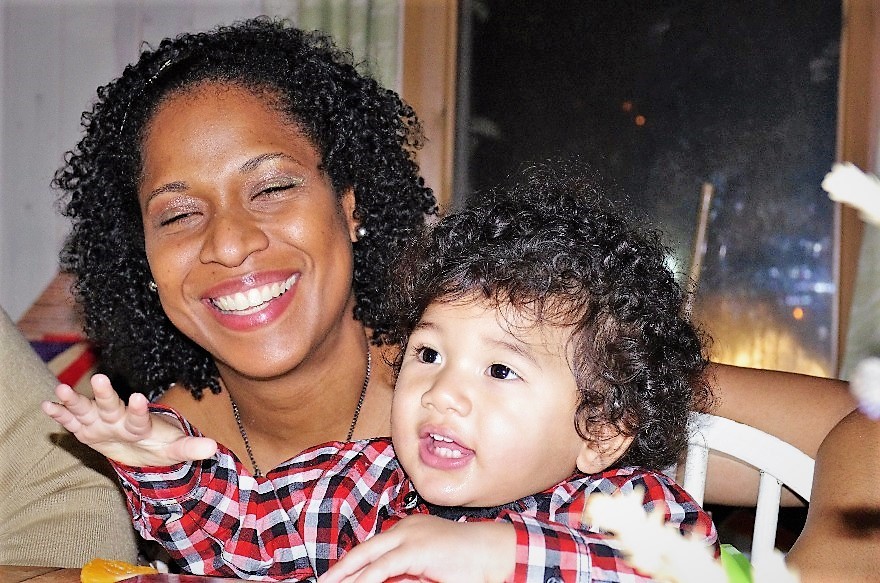 And baby makes 3
Maybe the midwives have a script to go by, I don't know. When baby popped out the midwife said 'oh he looks like his mum'. In all my pain and tiredness, I looked at the child and thought, she is mad. He looks nothing like me.  I was hoping for a best of both, a visual connection/resemblance to hubby and me. Instead, a healthy carbon copy of hubby arrived.  I wasn't disappointed but I was a bit disconcerted. As much I wasn't into breastfeeding prior to his birth, the moment I saw how different my mixed race baby boy was to me I embraced breastfeeding with gusto.  We stuck with it until he was eight months old.
It's assumed that there is an immediate connection between mother and baby, but that's not always the case. Naturally mum loves baby and baby looks to mum for food and security but the relationship is built up over time. At least, that's my opinion. Whether it was the breastfeeding or all that we've been through together … we are close. Every cuddle, every hand hold, every shared smile is precious to us both.
Is that your auntie?
So, I get mistaken for the nanny, the auntie, possible 'the other woman'; frankly I'm so over it now.  Funnily enough with the birth of my daughter, who is the best of both, we have been visually pieced us together, in a manner of speaking.  Although, once past my son has asked, 'mummy why do people ask if you're my auntie?' To which I replied 'well maybe they have never seen a mixed family like us. You look so much like your dad. Just tell them, I am your birth mother.' He was happy with that and we pressed on with our walk home from school.
As an expat mum without a long history to root me or my family to the community, we do our best to socialise and get to know people. However, as a family, we know who we are what we mean to each other and that grounds.
The Road Ahead For The Sussex's
Since the Sussex's announcement the media storm has begun. There have already been comments by Piers Morgan about the first Black Royal Baby … well that's one for another post.  Just know it's only going to get cray cray in the news.
The fact is mixed or not , expat or not, all families have their own challenges. As a parent, you put aside your insecurities to enable your flourish in confidence as much as possible.
I wish Meghan and Harry all the best on their parenting journey.
(updated 15th May 2020)