We at The Tiger Tales HQ look forward to spring/summer not just for the warmth but also for the return of our favourite pollinators. Our top two are butterflies and of course bees! In our garden we always incorporate a few wildflowers that the bees prefer. The lawn is allowed to over- grow for short periods of time so the bees can feast on the dandelions. I like to think that in some small part we are assisting the bee population. Not only are they adorable, they produce the precious nectar that is honey. The use of honey in medicine and food dates back ancient Egypt. Even today, at the first sign of a cough or cold, we pull out the honey lemon tea and lozenges. As it's World Honey Bee Day, I thought I'd share 6 honey-based products I have at home.
World Honey Bee Day
The day recognises both the honey bee and the beekeepers who tend the hives. It also encourages everyone to enjoy and buy locally grown honey. It's celebrated annually, on the third Saturday in August.
Honey Kissed Curls
Curly hair loves honey. When I use it, my curls have a glorious shine and bounce. One of my favourite products is Root 2 Tip's Honey Rain Juice. A few spritz refreshes parched curls. Another ole favourite is Herbal Essences' Bee Strong range which I used when my hair was bleached. Now that the bleached parts have grown out and trimmed off, I'm going to try their Bourbon & Manuka Honey conditioner as a cowash. It belongs to Herbal Essences Real Botanicals range which has been endorsed by the Royal Botanic Gardens (Kew), so I;m expecting good results.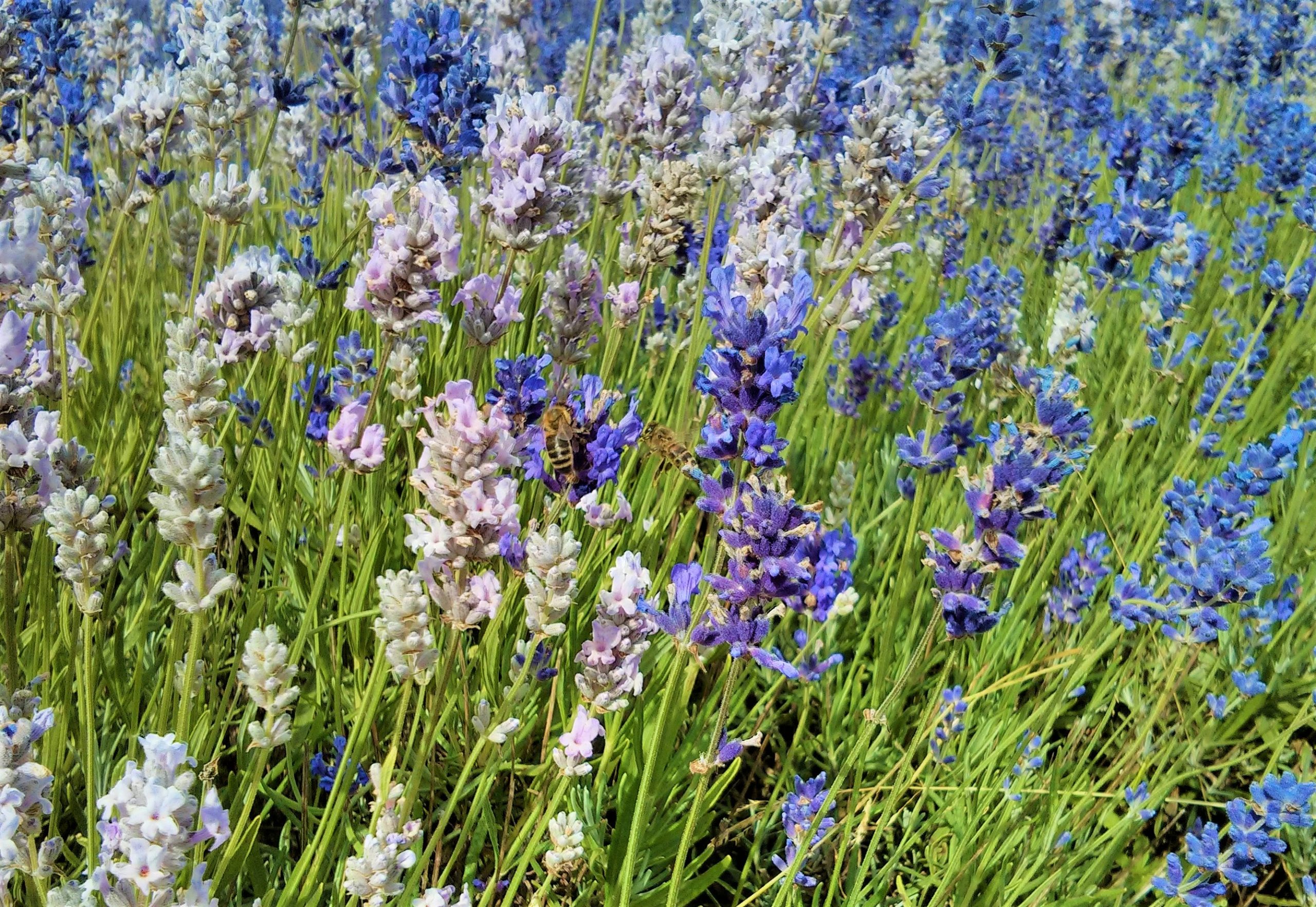 Bee-Loved Lips
Although some of us have swapped lipstick for bold eye make, due to mask wearing, lip care is important. I normally use Burt's Bees lip balms  The brands story is an interesting one. It was established by Burt Shavitz and Roxanne Quimby in the early 1980s. They couple lived a remote life in the wilderness of Maine but it all started on the fateful day that Burt found a stray beehive. He learnt how to eke out a living selling honey. He taught Roxanne about bees and she found recipe book from which they to produce candles (in 1984) followed by lip balm in 1991.
A new find was the Mayfield Lavender Lavender Lip Salve . As a family we make our annual sojourn to the lavender fields late in July when the blooms are at their best. It's one of the places we enjoy going on a minibeast hunt, amongst which are the bees. Year on year Mayfield Lavender improves their Banstead site as a local attraction and sell clever lavender infused products. Their lip salve made with beeswax is must have essential. The subtle lavender fragrance is quite calming and keeps the lips soft, smooth and moisturised.
Sensitive Skin
Honey is soothing to sensitive skin. It helps the skin to retain moisture which is a big plus for mature skin, as well. As a family that suffers with eczema honey is based products work well in times of flare-ups. Last year while on staycation in Gloucestershire, I discovered the Bees For Development store in Monmouth. They are a charity organisation that promotes sustainable beekeeping to combat poverty and to build sustainable, resilient livelihoods by supporting beekeepers to maintain environments that are good for bees, for biodiversity, and for people.
The shop stocks a wide variety of bee derived products. At the time I purchased a jar of Afon Mêl Honey and Ginger which went lovey with yogurt for breakfast. Recently, I purchased Chain Bridge Honey Farm – Honey and Oat All Natural Ointment with 2 % Propolis for my hands. My hands have taken a beating from constant washing and hand sanitisers. However, the Honey Bee Hand Cut Honey Soap (Geranium and frankincense scent) was cheeky a treat, for those times when I need an mood uplift. Geranimum has always makes me smile.
Conclusion
We shouldn't take these tiny mighty beasts for granted. Bees help fertilise the world.
How you use honey? What's your favourite honey based product? Maybe your are bee keeper, what is your favour part of your job. Comment below.
Photo by Timothy Paule II from Pexels