I don't know about other curly girls but my washngoes are not exactly a few minutes. Washing and drying/styling my TWA (teeny weeny afro) takes at least an hour, if I didn't apply a hair treatment. The thing is I have to dry my hair or else I end up with the sniffles, that just me. I could never understand how naturalista's sleep with treatments in their hair or step out with damp hair. Having two young children I don't have time to faff about with my hair too much. Anything that promises reduce time spent on washday, I would be happy to try if it's suitable for curly hair. Recently,  I was sent  an Aquis Lisse Luxe Hair Towel to trial, I loved it.
Aquis Lisse Luxe Hair Towel
Aquis' Lisse Luxe Hair Towel was a Beauty Shortlist Award Winner for 2017 and deservedly so.  'Lisse Luxe also excels at curly hair, fine hair, damaged hair and any hair that needs gentle treatment. New generation Aquitex improves absorbency and comfort.' I trialled it twice on the second occasion I had the best results.
Trial 1 of

Aquis Lisse Luxe Hair Towel
After my hair had been washed and conditioned used the towel to wrap my hair. I left it on for about 5-8 mins while I got dressed.  A substantial amount of the moisture was gone from my hair. My curls were a bit squashed because I'd wrapped my hair too tight. I then applied a hair cream and oil. I then completed the drying process by diffusing my hair because it was a damp day.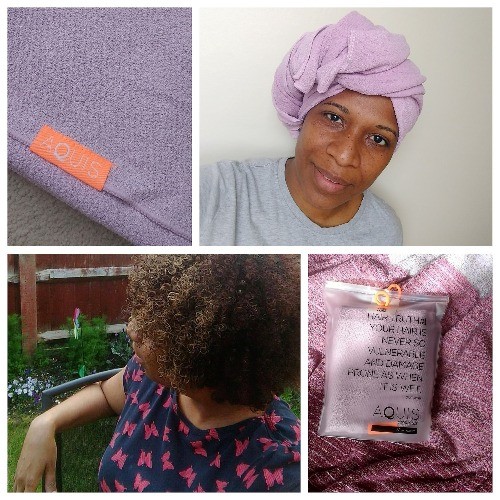 Trial 2 of

Aquis Lisse Luxe Hair Towel
Same as before I wrapped my clean wet hair in the towel. However, this time I wrapped it a bit loose and left It on for about 20 mins. My hair was a drier than the first trial and my curls we better formed. Because my hair was half way dry I simply applied my styling product and allowed my curls to hair air dry. I loved the results.
Using

 

Aquis Lisse Luxe Hair Towel on curly hair 
My children even complemented me on my hair! Unsolicited, they randomly played with my hair, which they don't' normally and, they said my hair was soft and felt like a woolly lamb. Trust me was their version of a complement. In fact they refused their dads request to have his hair brushed. They wanted to mess around with my hair instead because they were in awe of my bouncy curls. Result!
The Aquis Lisse Luxe Hair Towel is ideal for wash 'n' go styles.  It's perfect for any weather but I think spring /summer is ideal when you want carefree effortless hair. It's easily portable, so it can be taken camping, glamping, weekend breaks away.
I do think the looser the curl the better the results in terms of curl definition.  Tighter curls patterns will also benefit from the snag free TLC. However, I'm sure it will give curl definition, on coily and kinky hair types. 
Additional Info
The towel a suitable length for short to medium length hair that's not too thick. The measurements are 50 X 107CM. It RRP£30 and is durable. There is an Extra Long Size: 50 X 133CM which RRP£35. Lisse Luxe comes in five colours.
Visit Aquis Hair website to find out about other products from the brand.
(Updated 9th 2020)