One of the hot fashion trends for Autumn Winter 2014 is 50 Shades of Red. Along with green and purple, RED is one of my favourite colours, but I don't often find the right shade to complement the yellow undertone of my skin. Thanks to this trend the high street is awash with a vast range of reds from scarlett to oxblood. I have to say that I think the oxblood shade SO SEXY! Its perfect for me not quite brown not quite red. I recently bought a pair of Orla Kiely oxblood coloured Orla Dilly shoes from Clarks and so began the hunt for the right dress to style it with. The 50 shades of red trend is sure to give me lots of millage out my Orla Dillys.
Red Herring
In pursuit of my new dress, I tried on a few and I have to say along with the gorgeous stripes, paisely and tartan prints have come shorter hemlines. Three inches above the knee was cute and sexy when I was a size eight, now at a 16/18 it feels a bit risque! So I've made a mental note to top up on tights and leggings to save my dignity. Here are few dresses I spotted at Red Herring in Debehams, naturally I just had to try them on…
In the end I went for the geo print dress as there were reds in the print and I knew it would look fabulous with my Orla Dilly shoes. I had all intention of wearing tights with the dress but on the day it was a bit warm. In the end a light black coat or modesty sake… and so
… the shoes and outfit…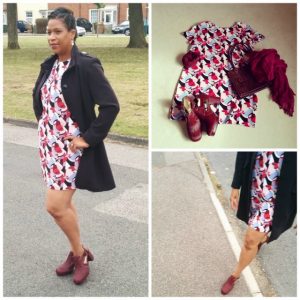 Outfit Details:
Dress: Red Herring Geo Print Shift Dress
Coat: Marks & Spencer (AW13)
Shoes: Orla Kiely for Clarks Shoes
Handbag: Barnados Charity Shop
Scarf and tights: Primark
I absolutely enjoyed wearing this outfit. I felt very chic and as I was child-free that day, I strutted off to an event confident that I was 'on like bowl corn' (Trini expression for looking good).
I'm linking this blog post to Mama and More blog hop All About You.