A few weeks ago I attended the private screening of Marvel Studios' Black Panther movie, hosted by Vlogger Influencers Curlture. The event was held at Cineworld, Wood Green, London and sponsored by Revlon Realistic and Black Girl Gamers. If you have not seen the film already and you are STILL wondering what the hype is all about, I'll tell you with no spoilers. Black Panther is an empowering film for black people and educational for those who are not.
The Plot
Marvel Studios' "Black Panther" follows T'Challa who, after the death of his father, the King of Wakanda, returns home to the isolated, technologically advanced African nation to succeed to the throne and take his rightful place as king. But when a powerful old enemy reappears, T'Challa's mettle as king—and Black Panther—is tested when he is drawn into a formidable conflict that puts the fate of Wakanda and the entire world at risk. Faced with treachery and danger, the young king must rally his allies and release the full power of Black Panther to defeat his foes and secure the safety of his people and their way of life.
5 reasons why…
Positive images of black cultural heritage- I'm talking, beauty, fashion, style, mores. It is imperative that black children growing up in a country where they are in the minority to see people black people in positions of power. The Obamas have finished their terms as the American First Family. The children being born now needed new and more role models. Did I mention beauty? I guess I did but let me say this, whether you are a newbie natural , an ole pro  or thinking about transitioning guarantee you will be inspired by the looks created for Black Panther movie.
The power of womanism– yes I said 'womanism', not 'feminism'. I first learnt about this term back at university, when I was studying American Literature and reading Alice Walker and Zora Neale Hurston books. I knew immediately it applied to me. It encompassed my world view. "Womanist is to feminist as purple is to lavender" -Alice Walker
Womanism is a feminist term coined by Alice Walker. It is a reaction to the realization that "feminism" does not encompass the perspectives Black women….  A Womanist is a woman who loves women and appreciates women's culture and power as something that is incorporated into the world as a whole.
The men of Wakanda are not striped of their power.  Instead men and women stand side by side.  In Walker's poem Democratic Womanism, written in 2012 in response the American elections:
Democratic Womanism.
Notice how this word has "man" right in the middle of it?
That's one reason I like it. He is right there, front and center. But he is surrounded/…
For who else knows so deeply
how to share but Mothers
and Grandmothers? Big sisters
and Aunts?
To love
and adore
both female and male?
Wakandan women's prowess as strong and able fighters was exquisitely demonstrated, along with their nurturing side. The women are willing to aid the weak and enslaved.  Characters like Nakia (Lupita Nyong'o) who's a spy and  the love interest of T'Challa/Black Panther (Chadwick Boseman), as well as Okoye (Danai Gurira), leader of the Dora Milaje regiment, love of W'Kabi (Daniel Kaluuya) Leader of the Border Tribe, a good examples.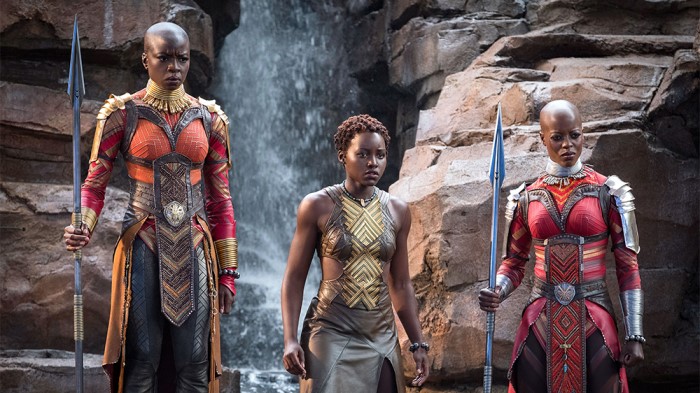 The acknowledgement of slavery & colonization– All those who question if slavery happened, whether or not it was 'that bad'  OR question if their ancestors were slaves… and yes, such people exist, may be inspired to research and read more deeply. Let the world know, we were not always slaves.
Community Spirit- I've often wondered how the slave trade would have developed if our African forefathers were less welcoming to foreign visitors. I guess we'll never know. I believe as a people, we are inherently open-hearted and willing to share. Generally, we give no thought how the sharing could affect us later on. Nonetheless, its a quality that shows our humanity had love for our fellowman.
Girls in S.T.E.M ( science, technology, engineering and maths) It's been over a year since Hidden Figures blazed onto our screens. Princess Shuri takes over where Katherine Johnson, Dorothy Vaughn and Mary Jackson left off. I was thrilled to see one so young spearheading technology improvements to Wakanda  and its military equipment, all while rocking some badass outfits and natural hairdos. What an inspiration for our daughters and sisters… future leaders.
So, after you have seen the film, come back and tell me what was your best bit and I'll tell you mine.